Skip to Content
No project is too small, let one of our professionals help you with getting your ceiling fan setup safe and properly the very first time.
There are numerous reasons to install ceiling fans in your Maryland home or business. Ceiling fans make spaces more comfortable, pleasing and energy efficient. The most popular reasons homeowners and business owners install ceiling fans include:
Lower Energy Costs
Aesthetics
Lighting
Comfort in the home or workspace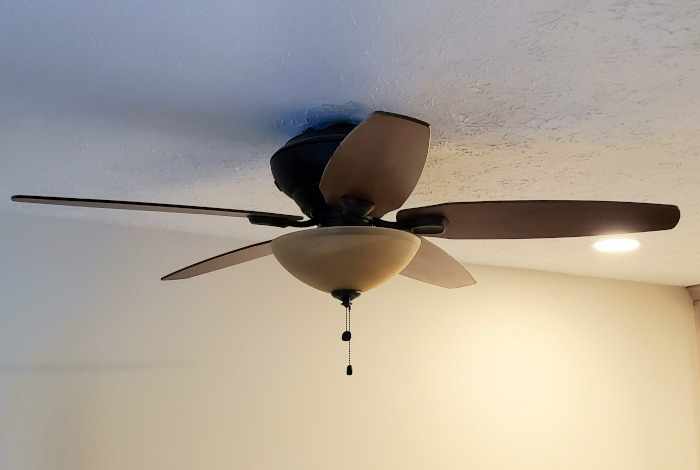 Should You Install A Home Ceiling Fan Yourself?
While many homeowners attempt to install their own ceiling fans, much electrical knowledge is required, so it is ideal to have a professional electrician install the fan properly. If you happen to install the ceiling fan improperly, it could negatively impact the fan's functionality throughout its lifespan. It might appear that installing a ceiling fan yourself is a simple task, but that doesn't mean you should do it yourself. The most important reason to hire a professional ceiling fan installation company is safety. As trusted and certified electricians, the Colonial Electric team are experts in proper handling of electrical wiring and systems, which is absolutely crucial when taking on any electric task big or small. Some of the most common safety hazards resulting from improper ceiling fan installation are loose blades and electrical sparks – not something you want to deal with!
Ceiling damage can also occur if the wrong ceiling box is used. Why? It leads to the fan being loose, improper support and worst-case scenario, ceiling damage. Our professional electricians know how to select the best ceiling box for your fans, in order to prevent future damage. Plus, hiring a professional to install your ceiling fans offers peace of mind, saves time, and will most likely save you money.
Benefits of Hiring a Professional To Install Ceiling Fans
Have a professional from Colonial Electric install your ceiling fan ensures it is done correctly, and minimized potential damage to your home or office ceiling. Plus, you won't have to mess around with wires and risk injury. Enjoy peace of mind knowing the job will be done correctly! There are numerous benefits to having your ceiling fans installed by a professional electrician, including the following:
Warranties: When you choose to work with a professional electric company for ceiling fan installation, you will enjoy comprehensive warranties for services and parts included in the installation process. If any problems arise after the fan is installed, you have peace of mind, knowing some or all of the costs are covered.
Safety: We continue to emphasize safety, because it is an incredibly important benefit to outsourcing your ceiling fan installation. Numerous people are hurt every year from injuries related to heavy lifting, falling from ladders and electric shock, which can all occur when trying to install a ceiling fan yourself.
Education: The Colonial Electric team is well-versed in state and county codes that are related to ceiling fan installation, wiring and electricity. If you violate these codes, it can be costly to fix them.
Minimizing Your Overall Cost: Although it might be tempting to try to curb costs by installing your own ceiling fan, the risk usually outweighs the benefit. Why risk it? Let the Colonial Electric team install your ceiling fan correctly the first time.
Get Your Free Estimate Today